Top Headlines
Local Headlines
---
---
---
---
You Tell Me Texas by Paul Gleiser
Franklin Roosevelt would never have traded five dangerous enemies of the United States for one Army deserter. Not even the feckless Jimmy Carter would have made such a fool of himself.
---
Health Connection
It is still important to eat whole grains, fruits and vegetables. Controlling your cholesterol is still an important key to your overall health. But there is new evidence to suggest that the link between the cholesterol in your diet and heart disease is not as strong as we have been led to believe. In this post to HealthConnection.TV, UT Health Northeast cardiology expert Dr. Dudley Goulden discusses diet versus heredity when it comes to managing cholesterol. Visit the Health Connection website!
---
Texas Lottery
Play the games of Texas!
---
Today in History
Historical Events
1961 - After a 4½ year trial Nelson Mandela is acquitted on treason charge
1973 - Dave Cowens wins NBA MVP
1975 - Only 2nd time Islanders beat Rangers
1989 - 61st Academy Awards - "Rainman", Dustin Hoffman and Jodie Foster win
1989 - 1st Soviet hockey players are permitted to play for...
---
Health Recipe of the Day!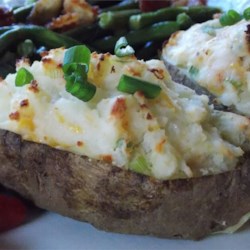 4.43 / 5 Stars | 5 Reviews
by MakeItHealthy
"These healthier twice baked potatoes are filled with lower fat versions of sour cream and milk."
---
Wordsmith.org: Today's Word
verb tr., intr.: To hurry or hasten. adjective: Hurried or hasty.