Top Headlines
Local Headlines
---
---
---
---
You Tell Me Texas by Paul Gleiser
Franklin Roosevelt would never have traded five dangerous enemies of the United States for one Army deserter. Not even the feckless Jimmy Carter would have made such a fool of himself.
---
Health Connection
It is still important to eat whole grains, fruits and vegetables. Controlling your cholesterol is still an important key to your overall health. But there is new evidence to suggest that the link between the cholesterol in your diet and heart disease is not as strong as we have been led to believe. In this post to HealthConnection.TV, UT Health Northeast cardiology expert Dr. Dudley Goulden discusses diet versus heredity when it comes to managing cholesterol. Visit the Health Connection website!
---
Texas Lottery
Play the games of Texas!
---
Today in History
Historical Events
705 - Greek pope John VII chosen as successor to John VI
1850 - SF County government established
1924 - Hitler sentenced to 5 years labor but Gen Ludendorff acquitted
1957 - World's biggest glass oven used
1973 - OPEC increases price of petroleum by 5.7 percent
1989 - 1st NY Met-NY Yankee game...
---
Health Recipe of the Day!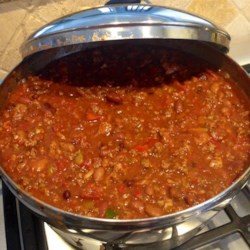 4.59 / 5 Stars | 18 Reviews
by MakeItHealthy
"A hearty and delicious chili perfect for football season is made healthier with reduced fat and sodium content. Still packed with meat, beans, and spices, it's sure to please even the most dedicated fan."
---
Wordsmith.org: Today's Word
Cheerful; good-humored.